Do you know what Project Manager skills are essential for successfully leading your projects?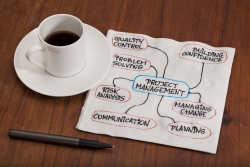 Project Manager Skills
If you want to be an effective project manager, you need to develop yourself in more areas than what are typically considered project management skills.
The three critical areas you need to focus on are...
Project Management Skills
Interpersonal Skills
Personal Effectiveness Skills
Creating a personal development plan that addresses these three areas will give you the project manager skills you need to be a Project Management Rock Star!
Project Management Skills
Project management scope refers to all of the products, services, and results provided by your project. Learn how a Project Scope Statement and Work Breakdown Structure can help prevent Scope Creep.
Effective project time management is crucial for project success. Learn how to develop and control your schedule using techniques like critical path method, resource leveling and schedule compression.
Project quality management is all the processes and activities needed to determine and achieve project quality. Learn what 3 quality management concepts will help you deliver a high quality project.
Project cost management is one of the most important aspects of project management that you need to master. Learn about project cost estimating, budgeting and control.
The goal of Project Risk Management is to identify project risks and develop strategies to prevent them from occurring or reduce their impact if they do occur. Learn the basics of risk management.

Interpersonal Skills
Understanding the importance of communication in business is critical for project success. Get a practical definition of communication and learn about the different types of communication you can use.
Understanding what makes a good leader is important if you want to be a successful manager. Learn about the two key characteristics of a good leader.
Teamwork in the workplace is critical for project success. Learn why teamwork is important and the key steps you can take to create an environment for effective teamwork in organizations and projects.
Employee motivation in the workplace has a strong influence on project results. Learn about two key aspects that highlight the importance of motivation in project management.

Personal Effectiveness Skills
Do you know how the power of positive thinking can help your projects succeed? Learn how a positive attitude at work can help you achieve what others consider impossible.
Setting SMART goals is one of the most powerful skills a project manager needs to master to be successful. Learn effective goal setting strategies you can use today.
Tips on time management tools and techniques that will help you be a more effective project manager. Learn a simple 3-step system for personal time management that can make you more productive.
Learn problem solving techniques and strategies that can help you effectively handle the challenges you face everyday. Improve your problem solving skills using these methods.
Decision making skills are critical for business success. Learn which decision making model is right for your situation. The quality of your decisions will determine your effectiveness in.

In Conclusion...
If you want to be an effective project manager, you need to focus on developing skills in the following areas...
Project Management Skills
Interpersonal Skills
Personal Effectiveness Skills
These are the project manager skills that will help you consistently lead your projects to success and become a Project Management Rock Star!