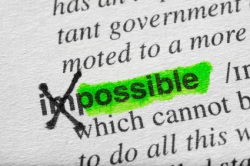 The Power of Positive Thinking
Do you know how the power of positive thinking can help your projects succeed?
Keeping a positive attitude at work is one of the most powerful actions you can take. Not only can your attitude influence everything around you, but you have complete control over it.
By approaching a new project in a positive way you can achieve what others consider impossible.
Joseph M. Juran, the 20th century quality management guru, defined a project as "a problem scheduled for solution." And some of those problems can be really hairy.
When a challenging problem lands on your desk as a newly assigned project, it's critical that you approach it with the right attitude. Your attitude at the beginning of the project will affect its outcome more than anything else.
Some people will immediately react to this type of challenging assignment in a negative way. They begin by finding answers to the question, "Why can't this project be done?"
We don't have enough time.
We've never done a project like this before.
The budget's not even enough to cover travel.
Negative answers such as these begin to reinforce each other and soon the project manager starts to see the project as a "Mission Impossible."
However, by approaching a challenging project in a positive way you will be able to find solutions instead of roadblocks.
The question you need to answer is...
"What would it take to successfully complete this project?"

When answering this question, it's OK to play around with the different constraints. For example, in one scenario assume you have unlimited time whereas in another assume money isn't a factor. Be creative here. This will help you identify different options and could also lead to new, innovative solutions.
You won't always be able to come up with a strategy that will allow you to meet the project requirements as given. In those cases, you will need to work with the project sponsor to determine which would be the best option to move forward with or if the project should even proceed at all.
By making sure you approach a new project with a positive attitude your manager and project sponsor will be confident that they chose the right person for the job and you will build credibility with the project team.
Using the power of positive thinking, you will soon become the "Go To" leader for business critical projects and have the best people wanting to be part of your team.