What is Quality?
Project quality management is all of the processes and activities needed to determine and achieve project quality.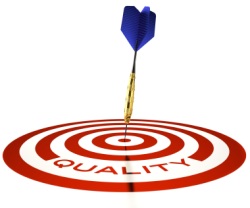 Project Quality Management
But what does "quality" really mean?
At its most basic level, quality means meeting the needs of customers. This is also known as "fit for use."
I like this simple definition of quality because it places the focus where it should be, on the customer. This basic definition also implies that the requirements of the project have been met since the requirements should reflect the customer's needs if collected properly.
As the project manager, there are three key quality management concepts that will help you deliver a high quality project...
Customer Satisfaction
Prevention over Inspection
Continuous Improvement
3 Key Quality Management Concepts
Customer Satisfaction

Module 8 of the PM PrepCast is all about Project Quality Management.
Consider this study program if you're preparing to take your CAPM or PMP Certification exam.
Disclosure:  I may receive a commission if you purchase the PM PrepCast with this link.
Customer satisfaction is a key measure of a project's quality. It's important to keep in mind that project quality management is concerned with both the product of the project and the management of the project.
If the customer doesn't feel the product produced by the project meets their needs or if the way the project was run didn't meet their expectations, then the customer is very likely to consider the project quality as poor, regardless of what the project manager or team thinks.
As a result, not only is it important to make sure the project requirements are met, managing customer expectations is also a critical activity that you need to handle well for your project to succeed.
Prevention Over Inspection
The Cost of Quality (COQ) includes money spent during the project to avoid failures and money spent during and after the project because of failures. These are known as the Cost of Conformance and the Cost of Nonconformance.
Cost of Conformance

Cost of Nonconformance

Prevention Costs

Training
Document Processes
Equipment
Time To Do It Right


Internal Failure Costs

Appraisal Costs

Testing
Destructive Testing Loss
Inspections


External Failure Costs

Liabilities
Warranty Work
Lost Business

The cost of preventing mistakes is usually much less than the cost of correcting them.
Continuous Improvement
Continuous improvement is a concept that exists in all of the major quality management approaches such as Six Sigma and Total Quality Management (TQM). In fact, it is a key aspect of the last concept, prevention over inspection.
Continuous improvement is simply the ongoing effort to improve your products, services, or processes over time. These improvements can be small, incremental changes or major, breakthrough type changes.
From a project perspective, this concept can be applied by analyzing the issues that were encountered during the project for any lessons learned that you can apply to future projects. The goal is to avoid repeating the same issues in other projects.
Quality Management for Projects
Project Quality Management has three key processes that you should perform in your projects...

1. Plan Quality

Pass your PMP Exam!
The PM Exam Simulator is an online exam simulator.
Realistic exam sample questions so you can pass your CAPM or PMP Certification exam.
Disclosure:  I may receive a commission if you purchase the PM Exam Simulator with this link.
Plan Quality involves identifying the quality requirements for both the project and the product and documenting how the project can show it is meeting the quality requirements. The outputs of this process include a Quality Management Plan, quality metrics, quality checklists and a Process Improvement Plan.
2. Perform Quality Assurance
Quality Assurance is used to verify that the project processes are sufficient so that if they are being adhered to the project deliverables will be of good quality. Process checklists and project audits are two methods used for project quality assurance.
3. Perform Quality Control
Quality Control verifies that the product meets the quality requirements. Peer reviews and testing are two methods used to perform quality control. The results will determine if corrective action is needed.