The Importance of Teamwork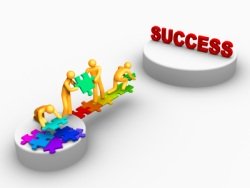 Effective Teamwork = Project Success
Teamwork in the workplace is an important factor for project success. As a result, developing an effective project team is one of the primary responsibilities of a project manager.
Why is teamwork important for your project?
Teamwork is important because it creates human synergy. It amplifies the results of each member of your team such that the overall result is greater than the individual contributions made by each member.
Below are some tips you can use to foster high performance and effective teamwork for your project.
Effective Teamwork in Organizations
Project Manager's Resource
As the project manager, there are several actions you can take to foster effective teamwork in your project...
Project Vision and Objectives
Clearly define and communicate your project's vision and objectives to all project members. This is important for overall coordination of the project team by making sure everyone is moving in the same direction.
Roles and Responsibilities
Make sure all project members understand what their role is and what their responsibilities are. This is important for setting expectations among all of the project stakeholders.
Encourage Collaboration
Create a project environment where problem-solving and decision-making are done in a collaborative and participative manner. This is important for empowering the team and encouraging active involvement in the project.
Build Trust
Create an environment of trust by modeling the behavior you desire from your team by communicating openly, supporting win/win approaches, and respecting others. This is important for showing the team that you trust them and encouraging mutual trust among each other.
Taking action in these four areas will set the foundation for effective teamwork and team building. This is the basis for developing a high-performing team and a successful project.
You can find more articles about the importance of teamwork below.