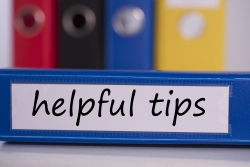 Helpful Project Manager Tips
Here are 5 project manager tips that can help you lead your projects to success...
Know Your Business Case
Understand Your Stakeholders
Define Project Success Criteria
Communicate Clearly and Often
Perform a Project Post-Mortem
Become more effective today by adding these project management tips to your skills toolbox.
Here are more details on each of these tips...
1. Know Your Business Case
The business case defines the value your project is tasked to provide from a business perspective.
It specifies the business drivers for your project. This could include return on investment (ROI), market share targets, or any other area important to the organization.
Understanding the business drivers behind your project is important for several reasons...
It will help you get executive support and additional funding if you can tie your projects needs to your organizations strategy.
It will help you make project decisions that support the business case of the project.
It will help you motivate your team by being able to articulate the importance of the project to the organization.
2. Understand Your Stakeholders
Project stakeholders are those people or groups that can impact your project or will be impacted by your project.
It's important for you to identify your stakeholders and understand their interests in your project.
For your project to be successful, you will need to set stakeholder expectations early and make sure that your project addresses the interests of high priority stakeholders.
3. Define Project Success Criteria
Project success criteria are the criteria that are used to measure whether your project has met its objectives. These are also known as the measures of success.
Project Success Criteria are...
Focused on business value
From the customer or end user perspective
Clear and concise
It's important that you get stakeholder buy-in for the project success criteria. If you don't, you could end up in the never-ending project. Trust me, you don't want that!
4. Communicate Clearly and Often
For a Project Manager, the importance of communication can't be over emphasized.
Being able to communicate clearly will keep you from having to reexplain information over and over, saving you considerable time.
It's also important to communicate often with your stakeholders. At a minimum, you should have a regular status report sent out, but you should also meet regularly with your stakeholders, both formally and informally.
5. Perform a Project Post-Mortem
Once your project has been completed, you should perform a project post-mortem.
The purpose of a project post-mortem is to help you, your team, and your organization improve.
During the post-mortem analysis, you should compare your projects results to the objectives, actual execution to the plan, identify any issues and determine their root cause. From this you can then develop your lessons learned that can be used on your next project.