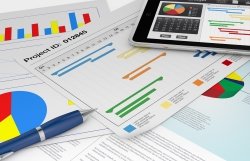 Project Time Management
How you handle project time management is one of the most important and visible aspects of any project. It's focus is on developing and controlling your project schedule.
If you want to complete your project in a timely manner, make sure you understand this area well.
Develop Your Schedule
To develop your project schedule, you'll need to do three things first...
Define Activities
Sequence Activities
Estimate Activity Durations
Define Activities
The first step to developing your schedule is to define the specific activities that need to be performed in order to complete the project.
This is done by using the work breakdown structure (WBS) that you developed during project scope management. The WBS lists all of the work packages that need to be done in order to complete all the project deliverables.
For each work package, you will define the specific activities that need to be performed in order to complete the work package. The result of this step is a comprehensive activity list for the project.
Sequence Activities
Once your activity list is ready, the next step is to determine the order each of the activities needs to be completed in.
To determine the sequence of activities, you will need to understand the relationships between them. By understanding which activities are related to each other, you will be able to determine which activities need to be completed in order to start another one.
A network diagram can be drawn to visually represent the sequence of activities.
Network Diagram
Estimate Activity Durations
The third step is to estimate how long each activity will take to complete. This needs to take into account the type, amount, and availability of people, material, equipment and supplies that are needed to perform each activity.
There are different techniques that you can use to estimate durations. For example, you can use expert judgment or base your estimate on a similar project (analogous estimating).
Develop Schedule
Now that the details about the project activities have been worked out, it's time to develop the project schedule. The schedule will list the start and finish dates for each activity.
It's important to keep in mind that this is an iterative process. As you do the schedule network analysis, you may find that you need shorten the schedule using schedule compression techniques such as crashing or fast tracking. Or you may find that you have resource peaks, so you will perform resource leveling to reduce these peaks.
I recommend using a scheduling tool to develop your project schedule. A scheduling tool will automatically adjust activity start and finish dates based on the relationships that were defined during activity sequencing. It will allow you to easily see the impact of different scenarios as you do what-if analysis.
Control Your Schedule
Once your schedule has been created and baselined, you control it by monitoring the status of your project in order to update its progress and handle any changes that are needed to the schedule baseline.
There are many techniques used for schedule control including...
Variance Analysis
Performance Reviews
What-If Scenario Analysis
Variance analysis and performance reviews will help you determine if the project is progressing as planned. If it isn't, then what-if scenario analysis can be used to identify any changes that could help to bring the project schedule back on track.
Find more articles about project time management below.