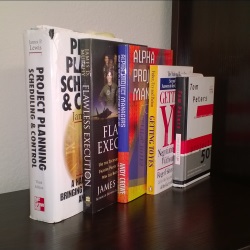 My Favorite Project Management Books
If you're like me, you enjoy reading and learning about project management and different approaches and techniques for successfully leading projects.
One of the best ways to do this is to read good project management books.
But if you go to Amazon.com and do a search for "project management" more than 85,000 books show up. It can be a challenge to find a PM book that is interesting and useful at the same time.
Listed below are five books that have influenced my approach to project management and have helped me become a successful Project Manager. Hopefully, they will have a similar effect on you.
Enjoy!

Project Planning, Scheduling, and Control
This is a great project management book that will guide you through all of the basic project management principles and show you how to apply them in the real world.
I particularly like the emphasis placed on project definition and project strategy. If you don't get those right, your project is doomed from the start.
This is the first book I recommend to new Project Managers.

Flawless Execution
It's always a learning experience reading about the systems used by people that have to succeed or face the risk of people dying. Flawless Execution translates military discipline into the day-to-day world of business and projects.
This book provides a proven system for achieving business goals and projects.
One of the most useful concepts in this book that is not used enough in the private sector is the post activity debrief. Think about how you can apply this on your projects to make them successful.

The Project 50
This project management book will help you get into the right mindset for being a successful Project Manager.
It will help you see how even the smallest of projects, even a single task, can be reframed into a WOW! project. This skill set is especially important as you start leading people in projects and have to get their buy-in.
Reading this book will give you many tools for turning a ho-hum project into one that people are begging you to be involved in.
Getting to Yes
As a Project Manager, you will have to negotiate. There is no way around that.
This highly-readable book thoroughly explains the method of Principled Negotiation. It shows you how you can achieve win-win negotiations in any situation.
As Project Managers, maintaining relationships is crucial for leading projects. As such, this method of negotiation is a key tool not just for project success, but for career success as well.
Alpha Project Managers
Do you want to excel as a Project Manager?
If so, then you need to get this book.
The author surveyed over 5000 Project Managers and stakeholders to uncover the key areas that separates the top 2% of Project Managers from their peers.
See how you stack up against the top, then take action to develop the skill sets you need to succeed as a world-class Project Manager.