Employee Motivation Techniques
for Project Managers
In a project environment, there are three employee motivation techniques that project managers should focus on in order to make sure their team stays motivated.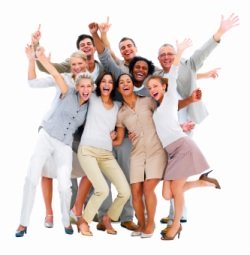 Employee Motivation Techniques
When it comes to projects, most team members are excited to be working on something new. As a result, project managers don't need to figure out how to motivate their team. They need to figure out how to make sure their team's motivation doesn't decrease!
There are three key factors that most often result in a decrease of team motivation...
Missing Top Management Support
Personal Conflicts Between Team Members
Increase of Project Scope
By effectively managing these factors, you can keep your team motivated and performing at a high level.
The following employee motivation strategies, each with its own motivation techniques, can be used to manage these key factors...
Gain Top Management Support
Manage Team Conflict
Control Project Management Scope
Gain Top Management Support
Gaining top management support for your project is important for several reasons. Top management support will ensure the project is resourced and funded appropriately and can also provide political support when needed. For the team, it shows that the project they are working on is important.
As the project manager, there are three employee motivation techniques you can use to get and keep top management support for your project...
Align Your Project to Your Organization's Strategic Goals
By emphasizing your project's relationships to your organization's strategy, you are more likely to keep senior management's attention on your project.
Keep Top Management Informed of Your Project's Status
Make sure your project doesn't get overlooked by publicizing project successes to senior management as well as to the wider organization.
Divide Longer Projects Into Phases
By dividing longer projects into phases, you will be able to show project progress more frequently and create positive momentum for the project with early victories. This will keep top management attention and build their confidence in the project.
Manage Team Conflict
Conflicts in a project environment are inevitable. If handled effectively by the project manager, the team can become stronger and more effective. However, if conflicts are ignored or not handled well, they can quickly lead to a breakdown in cooperation between team members which can impact the ability of the project to accomplish its goals.
When handling conflicts on your project team, it's important to remember that conflict is natural and to focus on the issues, not the individuals. Keeping these points in mind can help you effectively resolve the conflict using the following approach...
Define the Problem
Working with the team members having the conflict, jointly define and agree what the problem is. It is critical that you do this, otherwise the underlying issue won't get addressed.
Gather Information
Once the problem has been defined, you will then need to collect information about the problem. Since this involves people, you should do this with the appropriate level of discretion.
Brainstorm Potential Solutions
When identifying potential solutions, the team members having the conflict should have input. It's important for everyone to be open to new ideas during this stage.
Choose the Best Solution
At this point, the team members having the conflict may already have identified a solution that works for them. If not, you will need to facilitate a negotiated agreement that works for them. Most likely they will each have to concede some aspects, but hopefully a win-win solution can be found.
Control Project Management Scope
Managing project scope effectively is the third factor in preventing a decrease in team motivation. Changes in project scope can have a significant negative impact on your team's motivation.
Team frustration can be expected if scope changes happen frequently or in an uncontrolled manner. This is especially true in cases where the scope change requires the team to rework or discard earlier deliverables they have produced.
As the project manager, there are three motivation techniques you can use to minimize and control scope changes...
Clearly Define Project Scope Early in the Project
The first step to minimizing scope changes is to clearly define the project scope early in the project. The scope should be agreed with all of the key project stakeholders.
Manage Stakeholder Expectations
Managing stakeholder expectations is critical for minimizing scope changes. Making sure stakeholders understand the cost and schedule impact of any requested scope change can help eliminate "nice-to-have" requests that aren't really needed.
Implement a Change Management Process
Using a formal change management process will help to make sure any scope changes have been thoroughly analyzed and their impact agreed to by the key project stakeholders. This will help minimize the number of project scope changes.
Using these employee motivation techniques to manage the three key factors that lead to decreases in team motivation will help you motivate your team and keep them performing at a high level.
---
Back from Employee Motivation Techniques
to Motivation In The Workplace
Back from Employee Motivation Techniques
to Project Management Skills Home