Did You Know...
Effective Project Management Skills Can Supercharge Your Career
In today's business environment, work get's done through projects. Your ability to successfully manage a project is critical for your success.
The purpose of this website is to help you improve your project management skills.
Are you interested in...
Delivering business results
Enabling and helping others succeed
Getting more done in less time
Building your professional reputation
Understanding project management principles can help you excel in each of these areas.
To effectively manage a project you will need to develop your abilities beyond what are considered typical project management skills.
To be effective, you will need to focus on three types of skills...
Skills for Managing Projects: This includes your typical PM skills such as schedule management and scope management.
Skills for Managing Teams: These are interpersonal skills such as leadership and communication
Skills for Managing Yourself: This includes personal effectiveness skills such as goal setting and decision making
Project management skills consist of the combined skills from these three areas.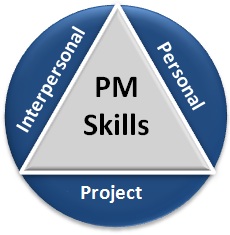 Accelerate Your Career
Developing your skills in project management can accelerate the achievement of your professional goals.
Imagine...
Your projects are well organized and exceed stakeholder expectations
People volunteer to work on initiatives you lead
Your personal effectiveness allows you to succeed without being stressed out
Executives and clients ask for you by name to lead their key projects
If you take the time to improve your PM skills, you WILL stand out from your peers!
Are You Ready To Get Results?
It's not a matter of IF you will be called on to manage and lead a project. It's a matter of WHEN.
Will you be ready when the opportunity to manage a project arrives?
Don't be an accidental project manager. Take control of your career by making the conscience choice to improve your project management skills today...
Project Management 101
Project Management Principles
Project Planning
Project Execution & Control
Skills for Managing Projects
Project Scope Management
Project Time Management
Project Quality Management
Project Cost Management
Project Risk Management
Skills for Managing Teams
Team Communication
Teamwork & Teambuilding
Leadership
Team Motivation
Skills for Managing Yourself
Goal Setting
Positive Attitude
Time Management
Problem Solving
Decision Making
Who Is Michael Martinez?
Michael is passionate about project management. He has been living a "Project Life" for more than a decade, learning and experiencing as much as possible about project management along the way.
You can find out more about him on the About page.